Blood Sacrifice?
Following is a list of scriptures that voice or indicate the displeasure of God with blood sacrifice.
You can locate many hundreds of biblical entrees, beginning with the transposed "offerings" of murderous Cain's blood sacrifice with gentle Abel's God pleasing offering of fruits and flax (in original Hebrew scrolls). Those multitude and parroted entrees lead you to believe God wanted or required blood sacrifice over the harmless and beneficial for all life principle of Consecration! Unfortunately most of humanity for many centuries have presumed those entrees that proscribe blood shed to be God's truth. But the authorship, with their knowledge base, investitures and the time of those entrees must be considered; especially where the Levite Priests, their philosophers and their scribes instead of the Prophets authored, maintained, transcribed, selected, edited, rewrote and reconstituted, many hundreds of times, those texts -- as it was with the books of Leviticus and Deuteronomy - which were stolen or lost and reconstructed from memory of men several times - and most all of the other books up to Psalms. But thankfully many parts of Psalms, Proverbs, then Isaiah forward (with the exception of the "reconstructed" Book of Ezekiel) hold enough to detect the attitudes of God through true Prophets instead of the Priests, philosophers, kings or their scribes.
You must decide which "god" would have asked for blood sacrifice, its endless killings and brutal death -- and was able to seduce and convince the priests that some innocent animal's death was what was required and would satisfy or appease him.
Is not our true God unchangeable and eternally full of grace and truth?
unchangeable = not duplicitous, not double minded, not with double standard, not confusing nor contradictive
grace = love kindness compassion protecting preserving
truth = including all physiology and knowing the dangers of blood transmission of disease, hormones, prions, antigens and heavy artery clogging fat! -- even for those many centuries of ill and corrupted Priests like grotesque and unworthy Eli, Manassah (who killed Isaiah), Annas and Caiaphas or Laban.
Remember, if a "god" of evil is able to mislead the priests, scribes, teachers and leaders of a community or nation, the trusting of that community or nation will blindly follow -- and teach their children the same!
The killing, blood sacrifice and consumption of flesh by the Priests was and still is the premise for all of Israel and the whole human family to kill, shed blood, consume corrupting flesh and learn violence -- to become diseased, grotesque, carnal and violent!
What true and loving God would want a unhealthy, heart disease, animal infection afflicted and vile nation? -- especially when He had from the very beginning provided a bounteous healthful and peaceful garden from which He advised us -- and lovingly desired for us to freely partake -- and enjoy life!
The animal never was the true sacrifice --
but the true sacrifice is to remove the animal from within man!
-- and lay that upon the alter to be consumed!
---
Conference, April 1995
"So it is that real, personal sacrifice never was placing an animal on the altar. Instead, it is a willingness to put the animal in us upon the altar and letting it be consumed! Such is the "sacrifice unto the Lord … of a broken heart and a contrite spirit," (D&C 59:8), a prerequisite to taking up the cross, while giving "away all [our] sins" in order to "know God" (Alma 22:18) for the denial of self precedes the full acceptance of Him. In the name of Jesus Christ, amen."
-- Apostle Neal A Maxwell
---
---
This first Scripture, -- along with Isaiah 66:3 & 4, following, -- holds the key to understand what the Lord really wanted in terms of sacrifice from His people, from the beginning! -- that of a "broken heart and contrite spirit" -- and living within that compassion and peaceful relationship with all creation that truly is -- and always was -- God!
(Ex. 22:29-31)
29 ¶ Thou shalt not delay to offer the first of thy ripe fruits, and of thy liquors: the firstborn of thy sons shalt thou give unto me.
30 Likewise shalt thou do with thine oxen, and with thy sheep: seven days* it shall be with his dam; on the eighth day thou shalt give it me.
[* Seven days: Like with your human child, critical immunity in an animal is established for its life survival and vital emotional bonding with its mother and family or herd is fixed within those important seven days! Then any removal and/or slaughter of the calf or kid would traumatize the mother and stress her associative herd -- even potentially drying up part of or all of that herd! -- That would bless no one!]
31 ¶ And ye shall be holy men unto me: neither shall ye eat any flesh that is 'torn' -[in original Hebrew: severed or cut] of beasts in the field; ye shall cast it to the 'dogs' -[unbelievers].
(Isa. 66:3&4)
3 He that killeth an ox is as if he slew a man; he that sacrificeth a lamb, as if he cut off a dog's neck; he that offereth an oblation, as if he offered swine's blood; he that burneth incense, as if he blessed an idol. Yea, they have chosen their own ways, and their soul delighteth in their abominations.
4 I also will choose their delusions, and will bring their fears upon them; because when I called, none did answer; when I spake, they did not hear: but they did evil before mine eyes, and chose that in which I delighted not.
[Isaiah was speaking here to the chief priest of the temple. Offended by his words which condemned those Levite priests and their blood sacrifices, within months Isaiah was himself slaughtered and dismembered upon their alter at the hand of those very same temple priests.]
---
Sacrifice:
OLD TESTAMENT
(1 Sam. 15:22)
22 And Samuel said, Hath the LORD as great delight in burnt offerings and sacrifices, as in obeying the voice of the LORD? Behold, to obey is better than sacrifice, and to hearken than the fat of rams.

(Ps. 27:6)
6 And now shall mine head be lifted up above mine enemies round about me: therefore will I offer in his tabernacle sacrifices of joy; I will sing, yea, I will sing praises unto the LORD.


(Ps. 40:5-8)
5 Many, O LORD my God, are thy wonderful works which thou hast done, and thy thoughts which are to us-ward: they cannot be reckoned up in order unto thee: if I would declare and speak of them, they are more than can be numbered.
6 Sacrifice and offering thou didst not desire; mine ears hast thou opened: burnt offering and sin offering hast thou not required.
7 Then said I, Lo, I come: in the volume of the book it is written of me,
8 I delight to do thy will, O my God: yea, thy law is within my heart.


(Ps. 51:15-19)
15 O Lord, open thou my lips; and my mouth shall shew forth thy praise.
16 For thou desirest not sacrifice; else would I give it: thou delightest not in burnt offering.
17 The sacrifices of God are a broken spirit: a broken and a contrite heart, O God, thou wilt not despise.
18 Do good in thy good pleasure unto Zion: build thou the walls of Jerusalem.
19 Then shalt thou be pleased with the sacrifices of righteousness, with burnt offering and whole burnt offering: then shall they offer bullocks upon thine altar.


(Ps. 107:22)
22 And let them sacrifice the sacrifices of thanksgiving, and declare his works with rejoicing.


(Prov. 15:8)
8 The sacrifice of the wicked is an abomination to the LORD: but the prayer of the upright is his delight.

(Prov. 17:1)
1 Better is a dry morsel, and quietness therewith, than an house full of sacrifices with strife.


(Prov. 21:3)
3 To do justice and judgment is more acceptable to the LORD than sacrifice.


(Prov. 21:27)
27 The sacrifice of the wicked is abomination: how much more, when he bringeth it with a wicked mind?


(Prov. 21:3)
3 To do justice and judgment is more acceptable to the LORD than sacrifice.


(Eccl. 5:1)
1 Keep thy foot when thou goest to the house of God, and be more ready to hear, than to give the sacrifice of fools: for they consider not that they do evil.


(Isa. 1:11)
11 To what purpose is the multitude of your sacrifices unto me? saith the LORD: I am full of the burnt offerings of rams, and the fat of fed beasts; and I delight not in the blood of bullocks, or of lambs, or of he goats.


(Isa. 29:1-2) spoken in sarcastic rebuke
1 Woe to Ariel, to Ariel, the city where David dwelt! add ye year to year; let them kill sacrifices.
2 Yet I will distress Ariel, and there shall be heaviness and sorrow: and it shall be unto me as Ariel.


(Isa. 43:22-28)
22 ¶ But thou hast not called upon me, O Jacob; but thou hast been weary of me, O Israel.
23 Thou hast not brought me the small cattle of thy burnt offerings; neither hast thou honoured me with thy sacrifices. I have not caused thee to serve with an offering, nor wearied thee with incense.
24 Thou hast bought me no sweet cane with money, neither hast thou filled me with the fat of thy sacrifices: but thou hast made me to serve with thy sins, thou hast wearied me with thine iniquities.
25 I, even I, am he that blotteth out thy transgressions for mine own sake, and will not remember thy sins.
26 Put me in remembrance: let us plead together: declare thou, that thou mayest be justified.
27 Thy first father hath sinned, and thy teachers have transgressed against me.
28 Therefore I have profaned the princes of the sanctuary, and have given Jacob to the curse, and Israel to reproaches.


(Isa. 61:8)
8 For I the LORD love judgment, I hate robbery for burnt offering; and I will direct their work in truth, and I will make an everlasting covenant with them.


(Isa. 65:3,4)
3 A people that provoketh me to anger continually to my face; that sacrificeth in gardens, and burneth incense upon altars of brick;
4 Which remain among the graves, and lodge in the monuments, which eat swine's flesh, and broth of abominable things is in their vessels;


(Isa. 66:3,4)
3 He that killeth an ox is as if he slew a man; he that sacrificeth a lamb, as if he cut off a dog's neck; he that offereth an oblation, as if he offered swine's blood; he that burneth incense, as if he blessed an idol. Yea, they have chosen their own ways, and their soul delighteth in their abominations.
4 I also will choose their delusions, and will bring their fears upon them; because when I called, none did answer; when I spake, they did not hear: but they did evil before mine eyes, and chose that in which I delighted not.


(Jer. 6:19-21)
19 Hear, O earth: behold, I will bring evil upon this people, even the fruit of their thoughts, because they have not hearkened unto my words, nor to my law, but rejected it.
20 To what purpose cometh there to me incense from Sheba, and the sweet cane from a far country? your burnt offerings are not acceptable, nor your sacrifices sweet unto me.
21 Therefore thus saith the LORD, Behold, I will lay stumblingblocks before this people, and the fathers and the sons together shall fall upon them; the neighbour and his friend shall perish.


(Jer. 7:17-26)
17 ¶ Seest thou not what they do in the cities of Judah and in the streets of Jerusalem?
18 The children gather wood, and the fathers kindle the fire, and the women knead their dough, to make cakes to the queen of heaven, and to pour out drink offerings unto other gods, that they may provoke me to anger.
19 Do they provoke me to anger? saith the LORD: do they not provoke themselves to the confusion of their own faces?
20 Therefore thus saith the Lord GOD; Behold, mine anger and my fury shall be poured out upon this place, upon man, and upon beast, and upon the trees of the field, and upon the fruit of the ground; and it shall burn, and shall not be quenched.
21 ¶ Thus saith the LORD of hosts, the God of Israel; Put your burnt offerings unto your sacrifices, and eat flesh.
22 For I spake not unto your fathers, nor commanded them in the day that I brought them out of the land of Egypt, concerning burnt offerings or sacrifices:
23 But this thing commanded I them, saying, Obey my voice, and I will be your God, and ye shall be my people: and walk ye in all the ways that I have commanded you, that it may be well unto you.
24 But they hearkened not, nor inclined their ear, but walked in the counsels and in the imagination of their evil heart, and went backward, and not forward.
25 Since the day that your fathers came forth out of the land of Egypt unto this day I have even sent unto you all my servants the prophets, daily rising up early and sending them:
26 Yet they hearkened not unto me, nor inclined their ear, but hardened their neck: they did worse than their fathers.


(Jer. 14:12)
12 When they fast, I will not hear their cry; and when they offer burnt offering and an oblation, I will not accept them: but I will consume them by the sword, and by the famine, and by the pestilence.


(Hosea 4:12,13)
12 ¶ My people ask counsel at their stocks, and their staff declareth unto them: for the spirit of whoredoms hath caused them to err, and they have gone a whoring from under their God.
13 They sacrifice upon the tops of the mountains, and burn incense upon the hills, under oaks and poplars and elms, because the shadow thereof is good: therefore your daughters shall commit whoredom, and your spouses shall commit adultery.


(Hosea 4:18,19)
18 Their drink is sour: they have committed whoredom continually: her rulers with shame do love, Give ye.
19 The wind hath bound her up in her wings, and they shall be ashamed because of their sacrifices.


(Hosea 6:4-7)
4 ¶ O Ephraim, what shall I do unto thee? O Judah, what shall I do unto thee? for your goodness is as a morning cloud, and as the early dew it goeth away.
5 Therefore have I hewed them by the prophets; I have slain them by the words of my mouth: and thy judgments are as the light that goeth forth.
6 For I desired mercy, and not sacrifice; and the knowledge of God more than burnt offerings.
7 But they like men have transgressed the covenant: there have they dealt treacherously against me.


(Hosea 8:11-14)
11 Because Ephraim hath made many altars to sin, altars shall be unto him to sin.
12 I have written to him the great things of my law, but they were counted as a strange thing.
13 They sacrifice flesh for the sacrifices of mine offerings, and eat it; but the LORD accepteth them not; now will he remember their iniquity, and visit their sins: they shall return to Egypt.
14 For Israel hath forgotten his Maker, and buildeth temples; and Judah hath multiplied fenced cities: but I will send a fire upon his cities, and it shall devour the palaces thereof.


(Hosea 9:1-9)
1 Rejoice not, O Israel, for joy, as other people: for thou hast gone a whoring from thy God, thou hast loved a reward upon every cornfloor.
2 The floor and the winepress shall not feed them, and the new wine shall fail in her.
3 They shall not dwell in the LORD's land; but Ephraim shall return to Egypt, and they shall eat unclean things in Assyria.
4 They shall not offer wine offerings to the LORD, neither shall they be pleasing unto him: their sacrifices shall be unto them as the bread of mourners; all that eat thereof shall be polluted: for their bread for their soul shall not come into the house of the LORD.
5 What will ye do in the solemn day, and in the day of the feast of the LORD?
6 For, lo, they are gone because of destruction: Egypt shall gather them up, Memphis shall bury them: the pleasant places for their silver, nettles shall possess them: thorns shall be in their tabernacles.
7 The days of visitation are come, the days of recompence are come; Israel shall know it: the prophet is a fool, the spiritual man is mad, for the multitude of thine iniquity, and the great hatred.
8 The watchman of Ephraim was with my God: but the prophet is a snare of a fowler in all his ways, and hatred in the house of his God.
9 They have deeply corrupted themselves, as in the days of Gibeah: therefore he will remember their iniquity, he will visit their sins.


(Hosea 12:10,11)
10 I have also spoken by the prophets, and I have multiplied visions, and used similitudes, by the ministry of the prophets.
11 Is there iniquity in Gilead? surely they are vanity: they sacrifice bullocks in Gilgal; yea, their altars are as heaps in the furrows of the fields.

(Hosea 13:2)
2 And now they sin more and more, and have made them molten images of their silver, and idols according to their own understanding, all of it the work of the
craftsmen: they say of them, Let the men that sacrifice kiss the calves.


(Amos 4:4-6)
4 ¶ Come to Beth-el, and transgress; at Gilgal multiply transgression; and bring your sacrifices every morning, and your tithes after three years:
5 And offer a sacrifice of thanksgiving [bread] with leaven, and proclaim and publish the free offerings: for this liketh you, O ye children of Israel, saith the Lord GOD.
6 ¶ And I also have given you cleanness of teeth in all your cities, and want of bread in all your places: yet have ye not returned unto me, saith the LORD.


(Amos 5:21-27)
21 ¶ I hate, I despise your feast days, and I will not smell in your solemn assemblies.
22 Though ye offer me burnt offerings and your meat offerings, I will not accept them: neither will I regard the peace offerings of your fat beasts.
23 Take thou away from me the noise of thy songs; for I will not hear the melody of thy viols.
24 But let judgment run down as waters, and righteousness as a mighty stream.
25 Have ye offered unto me sacrifices and offerings in the wilderness forty years, O house of Israel?
26 But ye have borne the tabernacle of your Moloch and Chiun your images, the star of your god, which ye made to yourselves.
27 Therefore will I cause you to go into captivity beyond Damascus, saith the LORD, whose name is The God of hosts.


(Mal. 1:12-14)
12 ¶ But ye have profaned it, in that ye say, The table of the LORD is polluted; and the fruit thereof, even his meat, is contemptible.
13 Ye said also, Behold, what a weariness is it! and ye have snuffed at it, saith the LORD of hosts; and ye brought that which was torn, and the lame, and the sick; thus ye brought an offering: should I accept this of your hand? saith the LORD.
14 But cursed be the deceiver, which hath in his flock a male, and voweth, and sacrificeth unto the Lord a corrupt thing: for I am a great King, saith the LORD of hosts, and my name is dreadful among the heathen.
---
NEW TESTAMENT
(Matt. 9:13)
13 But go ye and learn what that meaneth, I will have mercy, and not sacrifice: for I am not come to call the righteous, but sinners to repentance.

(Matt. 12:5-7)
5 Or have ye not read in the law, how that on the sabbath days the priests in the temple profane the sabbath, and are blameless?
6 But I say unto you, That in this place is one greater than the temple.
7 But if ye had known what this meaneth, I will have mercy, and not sacrifice, ye would not have condemned the guiltless.

(Mark 12:33)
33 And to love him with all the heart, and with all the understanding, and with all the soul, and with all the strength, and to love his neighbour as himself, is more than all whole burnt offerings and sacrifices.

(Acts 7:35-54)
35 This Moses whom they refused, saying, Who made thee a ruler and a judge? the same did God send to be a ruler and a deliverer by the hand of the angel which appeared to him in the bush.
36 He brought them out, after that he had shewed wonders and signs in the land of Egypt, and in the Red sea, and in the wilderness forty years.
37 ¶ This is that Moses, which said unto the children of Israel, A prophet shall the Lord your God raise up unto you of your brethren, like unto me; him shall ye hear.
38 This is he, that was in the church in the wilderness with the angel which spake to him in the mount Sina, and with our fathers: who received the lively oracles to give unto us:
39 To whom our fathers would not obey, but thrust him from them, and in their hearts turned back again into Egypt,
40 Saying unto Aaron, Make us gods to go before us: for as for this Moses, which brought us out of the land of Egypt, we wot not what is become of him.
41 And they made a calf in those days, and offered sacrifice unto the idol, and rejoiced in the works of their own hands.
42 Then God turned, and gave them up to worship the host of heaven; as it is written in the book of the prophets, O ye house of Israel, have ye offered to me slain beasts and sacrifices by the space of forty years in the wilderness?
43 Yea, ye took up the tabernacle of Moloch, and the star of your god Remphan, figures which ye made to worship them: and I will carry you away beyond Babylon.
44 Our fathers had the tabernacle of witness in the wilderness, as he had appointed, speaking unto Moses, that he should make it according to the fashion that he had seen.
45 Which also our fathers that came after brought in with Jesus into the possession of the Gentiles, whom God drave out before the face of our fathers, unto the days of David;
46 Who found favour before God, and desired to find a tabernacle for the God of Jacob.
47 But Solomon built him an house.
48 Howbeit the most High dwelleth not in temples made with hands; as saith the prophet,
49 Heaven is my throne, and earth is my footstool: what house will ye build me? saith the Lord: or what is the place of my rest?
50 Hath not my hand made all these things?
51 ¶ Ye stiffnecked and uncircumcised in heart and ears, ye do always resist the Holy Ghost: as your fathers did, so do ye.
52 Which of the prophets have not your fathers persecuted? and they have slain them which shewed before of the coming of the Just One; of whom ye have been now the betrayers and murderers:
53 Who have received the law by the disposition of angels, and have not kept it.
54 ¶ When they heard these things, they were cut to the heart, and they gnashed on him with their teeth.

(Rom. 12:1,2)
1 I beseech you therefore, brethren, by the mercies of God, that ye present your bodies a living sacrifice, holy, acceptable unto God, which is your reasonable service.
2 And be not conformed to this world: but be ye transformed by the renewing of your mind, that ye may prove what is that good, and acceptable, and perfect, will of God.

(Heb. 7:27,28)
27 Who needeth not daily, as those high priests, to offer up sacrifice, first for his own sins, and then for the people's: for this he did once, when he offered up himself.
28 For the law maketh men high priests which have infirmity; 0but the word of the oath, which was since the law, maketh the Son, who is consecrated for evermore.

(Heb. 10:1-11)
1 For the law having a shadow of good things to come, and not the very image of the things, can never with those sacrifices which they offered year by year continually make the comers thereunto perfect.
2 For then would they not have ceased to be offered? because that the worshippers once purged should have had no more conscience of sins.
3 But in those sacrifices there is a remembrance again made of sins every year.
4 For it is not possible that the blood of bulls and of goats should take away sins.
5 Wherefore when he cometh into the world, he saith, Sacrifice and offering thou wouldest not, but a body hast thou prepared me:
6 In burnt offerings and sacrifices for sin thou hast had no pleasure.
7 Then said I, Lo, I come (in the volume of the book it is written of me,) to do thy will, O God.
8 Above when he said, Sacrifice and offering and burnt offerings and offering for sin thou wouldest not, neither hadst pleasure therein; which are offered by the law;
9 Then said he, Lo, I come to do thy will, O God. He taketh away the first, that he may establish the second.
10 By the which will we are sanctified through the offering of the body of Jesus Christ once for all.
11 And every priest standeth daily ministering and offering oftentimes the same sacrifices, which can never take away sins:

(Heb. 13:8-16)
8 Jesus Christ the same yesterday, and to day, and for ever.
9 Be not carried about with divers and strange doctrines. For it is a good thing that the heart be established with grace; not with meats, which have not profited them that have been occupied therein.
10 We have an altar, whereof they have no right to eat which serve the tabernacle.
11 For the bodies of those beasts, whose blood is brought into the sanctuary by the high priest for sin, are burned without the camp.
12 Wherefore Jesus also, that he might sanctify the people with his own blood, suffered without the gate.
13 Let us go forth therefore unto him without the camp, bearing his reproach.
14 For here have we no continuing city, but we seek one to come.
15 By him therefore let us offer the sacrifice of praise to God continually, that is, the fruit of our lips giving thanks to his name.
16 But to do good and to communicate forget not: for with such sacrifices God is well pleased.

(1 Pet. 2:5)
5 Ye also, as lively stones, are built up a spiritual house, an holy priesthood, to offer up spiritual sacrifices, acceptable to God by Jesus Christ.
---
BOOK OF MORMON
(Alma 34:10-17)
10 For it is expedient that there should be a great and last sacrifice; yea, not a sacrifice of man, neither of beast, neither of any manner of fowl; for it shall not be a human sacrifice; but it must be an infinite and eternal sacrifice.
11 Now there is not any man that can sacrifice his own blood which will atone for the sins of another. Now, if a man murdereth, behold will our law, which is just, take the life of his brother? I say unto you, Nay.
12 But the law requireth the life of him who hath murdered; therefore there can be nothing which is short of an infinite atonement which will suffice for the sins of the world.
13 Therefore, it is expedient that there should be a great and last sacrifice, and then shall there be, or it is expedient there should be, a stop to the shedding of blood; then shall the law of Moses be fulfilled; yea, it shall be all fulfilled, every jot and tittle, and none shall have passed away.
14 And behold, this is the whole meaning of the law, every whit pointing to that great and last sacrifice; and that great and last sacrifice will be the Son of God, yea, infinite and eternal.
15 And thus he shall bring salvation to all those who shall believe on his name; this being the intent of this last sacrifice, to bring about the bowels of mercy, which overpowereth justice, and bringeth about means unto men that they may have faith unto repentance.
16 And thus mercy can satisfy the demands of justice, and encircles them in the arms of safety, while he that exercises no faith unto repentance is exposed to the whole law of the demands of justice; therefore only unto him that has faith unto repentance is brought about the great and eternal plan of redemption.
17 Therefore may God grant unto you, my brethren, that ye may begin to exercise your faith unto repentance, that ye begin to call upon his holy name, that he would have mercy upon you;

(3 Ne. 9:19-22)
19 And ye shall offer up unto me no more the shedding of blood; yea, your sacrifices and your burnt offerings shall be done away, for I will accept none of your sacrifices and your burnt offerings.
20 And ye shall offer for a sacrifice unto me a broken heart and a contrite spirit. And whoso cometh unto me with a broken heart and a contrite spirit, him will I baptize with fire and with the Holy Ghost, even as the Lamanites, because of their faith in me at the time of their conversion, were baptized with fire and with the Holy Ghost, and they knew it not.
21 Behold, I have come unto the world to bring redemption unto the world, to save the world from sin.
22 Therefore, whoso repenteth and cometh unto me as a little child, him will I receive, for of such is the kingdom of God. Behold, for such I have laid down my life, and have taken it up again; therefore repent, and come unto me ye ends of the earth, and be saved.
---
D&C
(D&C 59:8)
8 Thou shalt offer a sacrifice unto the Lord thy God in righteousness, even that of a broken heart and a contrite spirit.

(D&C 64:23)
23 Behold, now it is called today until the coming of the Son of Man, and verily it is a day of sacrifice, and a day for the tithing of my people; for he that is tithed shall not be burned at his coming.

(D&C 84:31-34)
31 Therefore, as I said concerning the sons of Moses—for the sons of Moses and also the sons of Aaron shall offer an acceptable offering and sacrifice in the house of the Lord, which house shall be built unto the Lord in this generation, upon the consecrated spot as I have appointed—
32 And the sons of Moses and of Aaron shall be filled with the glory of the Lord, upon Mount Zion in the Lord's house, whose sons are ye; and also many whom I have called and sent forth to build up my church.
33 For whoso is faithful unto the obtaining these two priesthoods of which I have spoken, and the magnifying their calling, are sanctified by the Spirit unto the renewing of their bodies.
34 They become the sons of Moses and of Aaron and the seed of Abraham, and the church and kingdom, and the elect of God.

(D&C 97:8-12)
8 Verily I say unto you, all among them who know their hearts are honest, and are broken, and their spirits contrite, and are willing to observe their covenants by sacrifice—yea, every sacrifice which I, the Lord, shall command—they are accepted of me.
9 For I, the Lord, will cause them to bring forth as a very fruitful tree which is planted in a goodly land, by a pure stream, that yieldeth much precious fruit.
10 Verily I say unto you, that it is my will that a house should be built unto me in the land of Zion, like unto the pattern which I have given you.
11 Yea, let it be built speedily, by the tithing of my people.
12 Behold, this is the tithing and the sacrifice which I, the Lord, require at their hands, that there may be a house built unto me for the salvation of Zion—

D&C 132:50)
50 Behold, I have seen your sacrifices, and will forgive all your sins; I have seen your sacrifices in obedience to that which I have told you. Go, therefore, and I make a way for your escape, as I accepted the offering of Abraham of his son Isaac. [- the sacrifice of raising a son in rightousness]
---
PEARL OF GREAT PRICE
(Moses 5:5-8)
5 And he gave unto them commandments, that they should worship the Lord their God, and should offer the firstlings of their flocks, [remember how the true offering is discribed in Exodus 22;29,30] for an offering unto the Lord. And Adam was obedient unto the commandments of the Lord.
6 And after many days an angel of the Lord appeared unto Adam, saying: Why dost thou offer sacrifices unto the Lord? And Adam said unto him: I know not, save the Lord commanded me.
7 And then the angel spake, saying: This thing is a similitude of the sacrifice of the Only Begotten of the Father, which is full of grace and truth.
8 Wherefore, thou shalt do all that thou doest in the name of the Son, and thou shalt repent and call upon God in the name of the Son forevermore.



---
---
Evil has ever been (always) associated with animal, "blood sacrifice!" -- It has always been a conditioning for and preparatory "type-and-shadow" for ALL murder, including human murder! -- including the murder of the Lord Himself! Remember, it was Annas and Caiaphas, the Chief Priests of the temple, with their already entrenched proclivity for the endlessly brutal and bloody slaughter, long established within their order, which offended God, the Prophets, righteous Priests (as Zacharias) and ultimately Christ himself, that arranged for the murder of Christ!

Here is another correcting example shown in Facsimile #1 from the Book of Abraham: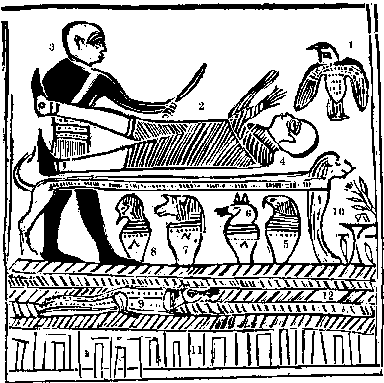 EXPLANATION
Fig. 1. The Angel of the Lord.
Fig. 2. Abraham fastened upon an altar.
Fig. 3. The idolatrous priest of Elkenah attempting to offer up Abraham as a sacrifice.
Fig. 4. The altar for sacrifice by the idolatrous priests, standing before the gods of Elkenah, Libnah, Mahmackrah,
...more...
Would a loving God also have Abraham terrorize his own son Issac with his own like (previous) experience?
Why did the Lord make sure you had this drawing and experience of Abraham exposed to you?
Is it not so you would know that Abraham already would know how evil the threat of a father sacrificing his own son was -- long before his own son Isaac was even born? Or does God act duplicitously and deceptively, mocking even His own counsels against lying or barring false witness with righteous men or precious mothers, or cruelly and unkindly affixing maliscous or fabricating trauma upon or towards an innocent, helpless child or youth? Is every written word pure truth?
-- So what is the Lord teaching you in or through this undefiled facsimile that He had Abraham, and Joseph Smith today, provide for your view?

And then, what is the message of our relationship to all creation that we observe and are taught in the Lord's House?

From the very beginning, commencing even with Adam and Eve (whom you are instructed to consider yourselves as, and emulate), and as is required of us to even usher in the Millennium, what is our relationship with the creatures meant to be?
-- Has not always the Lord's true message been: to "become harmless before the brute creation" and to come to peace with all creatures and all living souls -- so as to be found worthy to partake of the tree of Life? -- not of Babylon's slaughterhouse or Eygypts fleshpots and their tables full of misery, blood, horror and death!
-- And have we not been told over and over that we must be cleansed from the blood and sins of even our very own generations and "become a Millennial People" and to "be anxiously engaged in a good cause -- any good cause!" - especially that good cause of bringing about the Millennium! - by Pres Hinckley, and in infinitly by the other righteous Prophets before him.

When will we ever figure it out?
Our disease is not a test from God!
It is because we left His garden,
followed Solomon's fallen priests into their bloody slaughterhouse,
and went contrary to our initial, perfectly nourished and divinely harmless creation.
It is a consequence of our own carnal stupidity!

Please!
Check with the Holy Ghost: Use your own pure heart! -- and that Holy Spirit of Promise given you to discern truth! -- as all the Lord's Holy Prophets have commanded us to do!

Throw off the fables,"old wives tales"and outright lies that we have so easily accepted -- and do bind us! -- the same which did harm our fathers before -- and will continue to harm our children and all children to come -- if we do not!

Find the truth! Live the truth!
And that truth will work with power to heal you! -- and will heal your posterity!

It will not only work to restore vigor , but also to clear your mind!
Then you will find -- and understand treasures of knowledge, even hidden treasures!
-- and those will make you wise, vital -- and free!