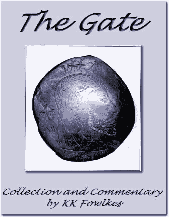 The Gate!
Open and access your personal Millennium!
Then help open the Lord's Millennium for your children, grandchildren and all creation!
The Gate is a comprehensive collection of Scripture, Prophetic instruction, and honorable science; all lighting the way into both your own personal Millennial blessings and a World Society's era of promised peace, healing, fullness of knowledge, freedom and happiness, as pointed toward and petitioned from us by our Heavenly Father, His Son, our Savior, His Prophets and all honorable mankind and creatures since Creation!
Carefully compiled and presented by KK Fowlkes, "The Gate" is available for you to freely read on line -- or is obtainable in paper back book form.
Go to TheGate.us, (or KKFowlkes.org)